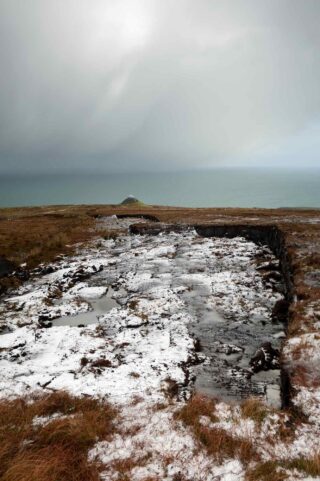 In the field of landscape studies, each year a place "particularly rich in nature, memory and invention" is the recipient of the International Carlo Scarpa Prize for Gardens. In 2018 the Scientific Committee of the Foundation selected The Céide Fields, a Neolithic rural landscape that emerges from the peat bog. In previous years the Carlo Scarpa Prize has been awarded to places in Egypt, Switzerland, Finland, Syria, Benin, Iceland, Bosnia-Herzegovina, Italy, Kazakhstan, Spain.
The purpose of the Prize is to enhance and propagate the culture of "stewardship of the landscape" and "care of places"; it is conceived as an opportunity and an instrument through which a wider public, beyond the community of specialist experts, can be acquainted with the intellectual and manual skills required to manage the changing landscape and to safeguard and promote the natural and historical heritage it embodies.
The story of Céide Fields, the most extensive Stone Age monument in the world, is truly a fascinating one.  In the 1930s Patrick Caulfield, a local school master in North Mayo noticed lines of stones in the ground when cutting turf and realised that they must pre-date the bog. However it wasn't until 40 years later his son, Professor Seamus Caulfield, an archaeologist, began excavating the site with his students to look for evidence of the community that lived there 5,000 years ago. In 1990, the OPW worked with Seamus and the local community to build the award-winning visitor and exhibition centre. The building is designed around a four and a half thousand year old pine tree. The exhibitions in the Centre are arranged around three main themes — the natural landscape, the human imprint on the landscape and the geology of the stunning North Mayo coast. The real experience of the Céide Fields however, is the walking tour with the Visitor Centre guides who bring the site to life by helping visitors to imagine walking in the steps of our ancestors from 5,000 years ago.