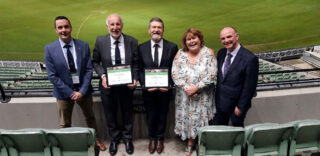 Accepting the award on behalf of the OPW, Commissioner John McMahon said:
"I am both delighted and enormously proud to accept this award on behalf of the people of Ireland and in particular all the staff of the OPW who work to ensure the Phoenix Park in Dublin is maintained to the highest standards allowing it to be enjoyed and shared by the public. We look forward to continuing this tradition so that the Phoenix Park can be enjoyed by generations to come."
"This award puts the Phoenix Park on the world stage and showcases Dublin as a green city with the Park providing invaluable health, recreational and environmental benefits for so many communities," commented Minister 'Boxer' Moran, on OPW winning the award.
The Phoenix Park was noted for its preservation of a well–protected and managed heritage park, with a broad range of activities and events serving the city of Dublin. The awards are dedicated to supporting the development of parks & open spaces as critical elements in creating vibrant cities and healthy communities.