Welcome Back
We are working on plans to gradually reopen the historic places we care for. Our priority remains the safety of our staff, visitors and local communities. Some of our sites are now open and more will open on an ongoing basis.
There will be some changes to the visitor experience for the safety of our visitors and our staff. Each site will have specific measures in place to keep everyone safe, which may include specific routes to follow, a limit on the number of visitors and not opening certain parts of some sites.  Visitors are strongly encouraged to avail of pre-booked ticketing at our most popular sites to ensure access and avoid disappointment.
Full details of proposed re-opening dates and changes to the visitor experience at each site are available on the individual site pages.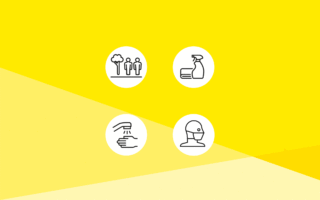 Our staff are working hard to adapt our sites for reopening. We're introducing a range of measures to help adhere to social distancing guidelines and hygiene standards.
Our staff have been trained in hygiene and social distancing and provided with the necessary PPE.
Some sites will have two metre markers on the ground to help visitors maintain a safe distance. Some sites will be using one way systems.
We have installed site-specific signage to guide you on your visit.
We have increased site cleaning regimes.
There may be screens in place in areas where it's difficult to separate visitors from staff.
Hand sanitisers, where necessary, will be in use across sites.
Barriers may be in place to help social distancing, particularly in queuing areas such as toilets and admission areas.
Catering options will be available at some sites.
Some sites may not be in a position to offer guided tours.

 

However, staff are happy to engage with you on a one-to-one basis adhering of course to Government guidelines
The full list of sites for which you are strongly advised to book online is here:
We're limiting the number of visitors to help everyone follow social distancing guidelines. At our most popular sites pre-booked time slots ensure that visits are spread out throughout the day, and that sites don't exceed their safe capacity. The full list of sites for which you are strongly advised to book online is available here. You'll receive your booking confirmation by email. Just bring this with you, either on your mobile device or as a print out. The email will contain a barcode that our team will scan when you arrive. If you have a valid Heritage Card, your ticket will be free, but you still need to book in advance for these sites.
Many more of our sites have reduced or free admission until the end of the year to encourage people to stay at home and take staycations and short breaks within Ireland, particularly over the next 6 months. Please see full list of sites with reduced or free admission here.
We want everyone to be able to enjoy our sites safely, and so we ask that you respect the following before and during your visit:
Please don't visit if you have symptoms of COVID-19
Please respect the Government and site guidelines on social distancing and hygiene
Please supervise children
Please park responsibly
We ask our visitor to adhere to the principles of 'Leave No Trace'. Please help us keep our historic places clean by bringing your litter home with you
Toilets are available at some of our sites, but please stringently follow social distancing and hygiene guidelines.