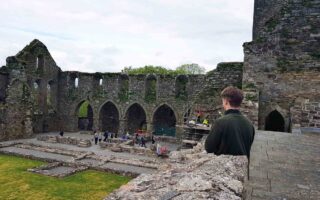 There has been much concern for Swifts in recent decades as their numbers have been in decline throughout many parts of their range, especially in Ireland, Britain and parts of Northern Europe. Here in Ireland they have shown decline since monitoring began during the late 1990s. A recent atlas of breeding and wintering birds in Ireland shows that there has been a substantial loss in range in Ireland since the 1970s and a decline in abundance throughout Britain and Ireland since 1990. A study in the UK revealed that houses built before 1919 are most important for nesting birds, with Common Swifts recorded much more frequently than in modern homes.
Their reliance on buildings makes Swifts vulnerable to human interference and they can be harmed by any renovation or restoration works. Survey results have shown that houses in which recent roof repairs had been undertaken were less likely to hold nesting Swifts, suggesting that houses may well lose these species if roof repairs are made. Therefore, it is important that we are aware of the habits of the species and learn how we can co-exist with them in our buildings, enjoy their comings and goings, better understand and promote the importance of our heritage sites for birds, and even attract them into our spaces.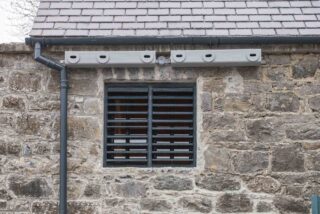 Latest research findings are indicating that climate change may well be another factor impacting on Swift populations. Given the recent declines in Swift numbers in Ireland and the pressures impacting on the species, it is essential that measures are put in place to help protect this iconic species.
Part of this particular project involves recording the presence/absence of Swifts at a selection of OPW sites with a particular emphasis on locating and recording nest site locations and, in the 2017 surveys, determining an estimate of the relative abundance of Swifts at each site against which baseline the results of future surveys can be measured.
The initial project objectives were to:
Examine existing datasets to identify known occurrences of Swifts at OPW Heritage Sites.
At each of the four selected OPW sites, complete Swift surveys during the 2017 breeding season to collect baseline data on presence of Swifts and in particular the locations of any nest sites.
Facilitate OPW staff at each site who wishes to assist with the survey work or want to receive any basic training in identifying Swifts.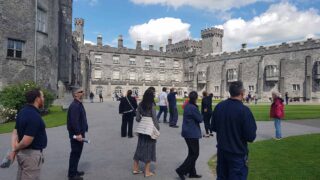 The OPW commissioned BirdWatch Ireland to undertake the surveys in 2017. The sites selected were the Rock of Cashel, Cahir Castle, Altamont Gardens and Dún Aonghasa. BirdWatch Ireland also carried out swift nesting surveys at two additional sites. Castletown House was monitored during breeding birds survey visits carried out as part of a separate OPW funded work package. Fieldworkers also took the opportunity to survey at Athassel Abbey, Co.Tipperary between visits to the Rock of Cashel and Cahir Castle.
The aim of the survey was to record the presence/absence of Swifts at each site, to broadly assess their abundance, to determine nest site locations and to provide management recommendations for Swifts. Between one and four survey visits were carried out to each heritage site during the breeding season (May, June and July). Point counts were completed for each site, with each totalling 15 minutes in duration. The number of point counts undertaken was dependant on the size of each site. During these counts the maximum number of Swifts seen at any one time during this period was recorded under three separate categories (screaming, non-screaming and high flying Swifts).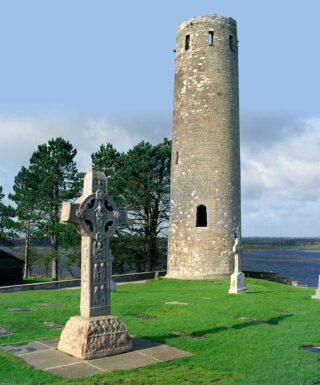 The peak abundance recorded during a single point count was 16 birds at Cahir Castle during the late July visit. The lowest peak count of Swifts observed was recorded at Castletown House with a maximum of two birds seen during the survey visit. A total of 5 confirmed and one probable Swift nest sites were identified during the 2017 survey season. Confirmed nest sites were located at Castletown House (1), the Rock of Cashel (2), and Athassel Abbey (2). Altamont Gardens was the location of one probable nest site.
Each summer since, ornithologists from BirdWatch Ireland survey a number of OPW properties for nesting Swifts. If Swifts are found, recommendations are made to ensure their future protection. If nest sites are not found, recommendations are often made to provide new nesting opportunities for Swifts through the installation of specialised nest boxes on site. Interestingly one of the lowest nest sites on record was found in the Round Tower at Clonmacnoise in County Offaly. The nest is at waist height, which is unusually low for the species!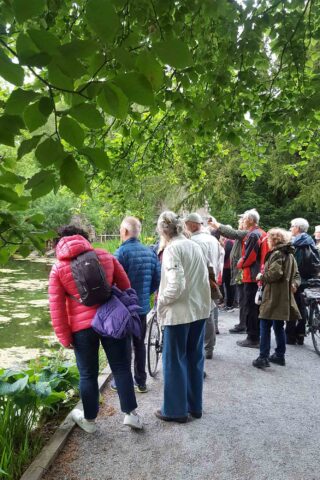 In addition to the surveys and management works, including the installation of swift boxes at appropriate sites, educational activities such as training days for OPW staff and events to raise awareness among the public are ongoing. Eighty-five people attended a Dusk Chorus event on Thursday 23 May 2019 at Kilkenny Castle Park and enjoyed a wonderful informative walk with the amazing Pat Durkin from Birdwatch Ireland (Kilkenny).
Thanks to the OPW staff at our Heritage sites for their enthusiasm in facilitating this initiative and to Commissioner John McMahon and Conservation Architect Michele O'Dea for initiating the project. Special thanks to Ricky Whelan and Birdwatch Ireland for all of their assistance. Let's hope that this extraordinary bird long continues to grace our heritage sites with its presence.