Keeper of the Kings.
"Mine is an unusual job. I am neither a butcher nor a baker nor a candlestick maker. You could be guessing for a year and a day and you'd never guess what I am. The word 'unique' is much abused, but my position here and now lays claim to it. I'd best start off by giving myself my correct title which is 'Official Caretaker of, and Guide to, the Rock of Cashel, Hore Abbey, St. Dominick's Abbey, in the City of Cashel, in the County of Tipperary, Ireland.' That would sound fine in the mouth of a good herald."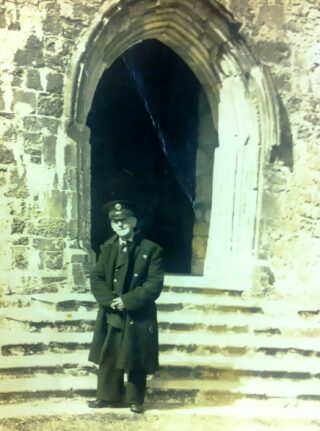 That is a piece from an article written by my grandfather Joe Minogue and published by The Bell in 1942. In the same article he states that in 1942 he had held the job for close to twenty years. His brother had it before that and his father had it before him again. Between the three of them they had given, at that stage, the greater part of fifty years on the Rock.
My great-grandfather John Minogue was once a clerical student in Rome with a passion for archaeology. He later became an Inspector in the R.I.C. before taking up the position as caretaker and guide to the Rock of Cashel around 1892. After his death in 1922 his son, also named John, took up the position until 1926. My grandfather, Joe Minogue, took over the role in 1926 and held it until his death in 1957. Joe Minogue's son Billy, my uncle, took over in 1957 and retired in the 1980s. My cousin, Michael O'Dwyer, also worked as a guide on the Rock during the 1980s. I started working on the Rock as a guide in 1992 and, apart from a short spell where I worked in England, have been here ever since. I became Supervisor in 2005. The Minogue family have been associated with the Rock of Cashel for over 120 years in total.
The family tradition of service to the Rock continued when my sister, Julieanne Slattery, started work as a guide in 2005. In 2007 she travelled to Australia but returned to the Rock in 2009. Growing up we both heard stories and sagas of historic battles between dynasties going back centuries, recounted so passionately by our Uncle Billy. One of Julieanne's earliest memories was of our Uncle Billy standing outside Cormac's Chapel conducting a guided tour. As a result, Cashel's vast and fascinating history was never far from our thoughts, even when we lived overseas. In 2016 the fifth generation of our family, my son Cathal Moriarty, passed the walled chambers of the Rock as the newest addition to the guide staff.
Reading through the article my grandfather wrote in 1942, he also reflects that his knowledge of the Rock did not consist of surface patter. His father saw to that. He drilled the story of Cashel into them when they were young. The very odd time my great-grandfather was ill my grandfather would be allowed to conduct visitors on a guided tour around the Rock. On his return he had to render a strict account of his doings. Had he done this? Had he done that? Had he translated the Latin inscription at the Cathedral threshold? What had he said it signified Satisfied with my grandfather's responses, my great-grandfather would cover himself up with the bedclothes and chuckle softly to himself.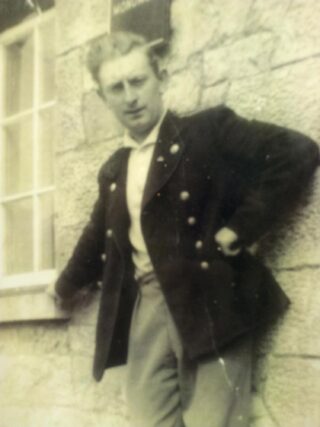 In that article, my grandfather also asks the question, "Have I ever locked a person into the Cathedral at night?" "Well no, I haven't" is his answer. When locking up for the night he would give a "Hello" in through the Cathedral door just to make sure there was no one inside. His ears were so finely tuned to the gentle noises of the buildings that he would know almost instinctively whether there was someone inside or not.
For my part I believe that a good tour guide is more than simply an imparter of historic information. I believe the job entails having as much enthusiasm in the delivery as it does in the acquiring of knowledge. I impress on guides that they are like actors on a stage delivering their lines in a way that makes their audience hang on every word. I tell the guides to enjoy what they're doing and to interact with the visitors as much as they can on a busy site. Often you will find it's the connection made at the end of a tour that leaves the best impression. Being at ease with people and imagining yourself a performer does indeed help as part of the job description.
Managing such a busy site can be a testing affair at times, even for the experienced, but, within the confines of the most sacred of Irish historical sites, the vast majority of working days are very pleasant ones. It's hard not to be proud of Ireland's wonderful and ancient history when you work in a place like this. Every day I have a feeling of pride. People are listening to your every word and will often applaud at the end. There are few enough jobs in this world where you get that kind of response.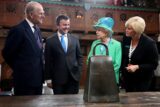 Both my sister Julieanne and I felt a massive sense of pride to be present during the historic visit of HM Queen Elizabeth II and HRH the Duke of Edinburgh to the Rock of Cashel in May 2011. Before their arrival that morning I paid a visit to my grandfather's grave on the Rock and pondered over what he would think of his two granddaughters welcoming the Royal couple to his beloved Rock.
I would like to conclude with a final piece from my grandfather's article and, reading it, you will understand the pride he and our family still have today working on the Rock of Cashel:
That's my story as best I can tell it. Ah, but I almost forgot. When next you pass Cashel I shall be resplendent in a uniform with a peaked shiny cap. If you cannot come, I would have you picture me against the background of my beloved Rock and the richest land in all Ireland thrown in a great circle about my feet. The rich land runs till it meets the mountains whose names I know like a prayer – Slievenamon, the Comeraghs, the Galtees, Knockagreena, Devil's Bit. Those landmarks at the very least are unchanged and unchangeable since Oliol Olum or Aengus stood and contemplated them from Cashel before breakfast. The Kings are dead. I guard them. In truth, I am the Keeper of the Kings.