Exhibitions
Explore our fabulous online exhibitions.
In keeping with this year's Heritage Week theme, 'Heritage and Education',
we developed two stimulating online exhibitions.
Six Thousand Years of Learning is an exhibition which explores the very varied types of education and knowledge transfer that have existed at our Heritage Sites for thousands of years. Discover how our monasteries came to produce some of the most precious and revered illuminated manuscripts in the world. See the imaginings of ancient artists that live on in the stunning megalithic art at Loughcrew and Knowth. Marvel at the work of medieval craftsmen that stands still in stone.
Six Thousand Years of Learning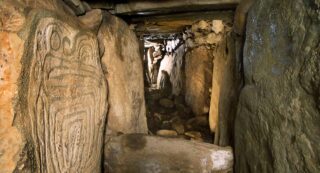 Lorg an Síséal – the mark of the chisel – is an exhibition which celebrates the OPW's current and recently qualified apprentices and their mentors. See some of the fabulous pieces created by our apprentices and find out how they learn the traditional and ancient techniques needed to care for our most important monuments.