2017 brought an international focus to Scattery Island when the island won the prestigious European Destination of Excellence Award for sustainable tourism.
The European Destinations of Excellence (EDEN) is a European Commission initiative to
promote sustainable tourism,
enhance the visibility of emerging and lesser known tourist destinations in Europe,
create awareness of Europe's tourism diversity and quality
EDEN holds regular competitions to select an emerging 'destination of excellence' based on the commitment to social, cultural, and environmental sustainability. Each competition is based on a specific theme such as rural tourism, aquatic tourism, or accessible tourism.
Located where the waters of the mighty Shannon meet the Wild Atlantic Way, lies Scattery Island - one of the least known but most impressive visitor attractions anywhere in Ireland. Although many tourist sites market themselves as being a 'hidden gem' a trip to Scattery really is a unique visitor experience located right on the Wild Atlantic Way.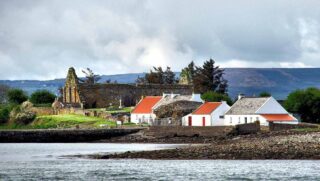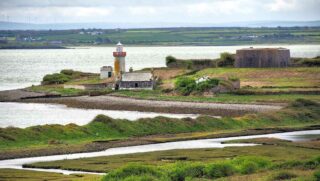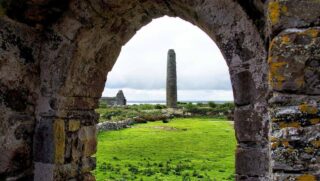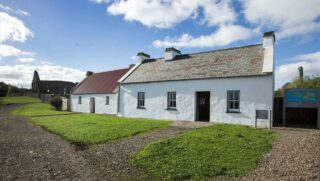 This little island has a fascinating history and was once the home of legendry monsters, medieval saints, Irish chieftains, Vikings, adventurers, raiders and traders. Today the island is uninhabited and visitors can explore its ancient historic sites and experience its unspoilt natural beauty in peace and tranquillity without battling their way through gift shops and busloads of tourists.  Visitors to Scattery are offered free entry to the island's heritage centre and free walking tours by friendly and professional tour guides from OPW Heritage Services.
The guided tours are very popular with younger visitors who can hear the legend of "An Cáthach" (the monster who once ruled the Island) and learn about Brian Ború – the High King of Ireland who defeated the Limerick Vikings in a great battle on Scattery. Older visitors can discover the daily life and struggles of the local community who lived in this beautiful but isolated location until the 1970's.
Visitors can explore the cathedral and churches of the ancient Celtic monastery founded by Saint Senan in the sixth century and marvel at the island's round tower, one of the tallest and best surviving examples in Ireland which has withstood Atlantic storms for over a thousand years. More adventurous day-trippers can also explore the abandoned ruins of the artillery fort on the south of the island which was built by the British army over two hundred years ago to prevent Napoleon's French armies sailing up the Shannon towards Limerick to invade Ireland.
As well as these historic sites the island also has a lighthouse, the deserted village where the islanders once lived and beautiful semi-natural grass land which is home to an array of wild bird, animal and plant life which is of great interest to ecologists and bird watchers who visit.
A daily ferry service to the Scattery Island offers regular, fast and comfortable ferry sailings to Scattery from Kilrush. This service departs Kilrush Marina and the full schedule of sailing times and further information on the service can be found on their website scatteryislandtours.com.