Portumna Castle Heritage Week Events 2022
Dates
10/08/2022 - 21/08/2022
Location
Portumna Castle and Gardens
EXHIBITION in Gallery throughout the week:  Original artwork by twin sisters Aislinn and Roisin Duggan, identical twin sisters based in the beautiful countryside of south Kilkenny . Both graduated in Genetics in 2020 and have been artists since they could hold a paint brush ! They love Nature and our beautiful planet and this is the main inspiration for their work.  They are also influenced by Celtic art styles, Irish mythology, magic and heritage and aim to add colour and magic to the lives of everyone their work reaches.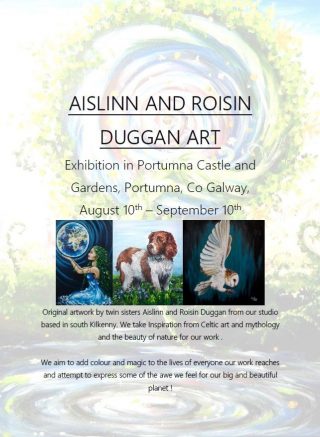 Saturday 13th August at 14:30: Talk on gardening for biodiversity with special attention given to the birds and the bees with Lynn O' Keeffe, OPW Portumna Castle Craft Gardener and horticulture tutor, with an optional tour of the Kitchen Garden (Max. 50 People).
Booking required, contact Portumna Castle and Gardens at:
Phone +353 (0) 909741658 – +353 (0) 909742003
Email: portumnacastle@opw.ie
Monday 15th, Thursday 18th August:  Lynn O' Keeffe, OPW Portumna Castle Craft Gardener will give a tour of the 17th Century Walled Kitchen Garden at 2pm. Group rate of €4 admission applies.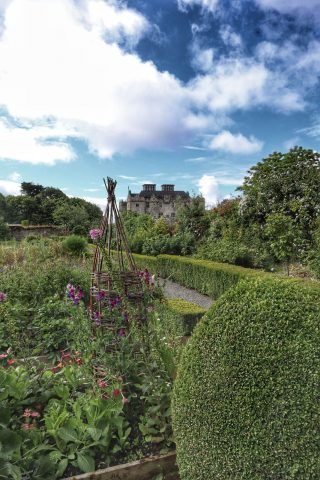 Sunday 21st August: 'Water Heritage Day'. We have invited Donal Boland, maritime archaeologist, to give a talk on the relationship between the river Shannon and the Great Famine on Sunday 21st, at 2.30pm in Portumna Castle Gallery, over Tea Rooms. Free admission to talk from Tea Rooms area (Max. 50 People).
Booking required, contact Portumna Castle and Gardens at:
Phone +353 (0) 909741658 – +353 (0) 909742003
Email: portumnacastle@opw.ie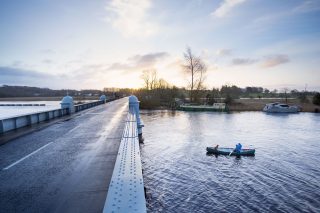 Sunday 14th August: SKILLS AND TRADITIONS OF THE PAST Barry Noyce, Baskets – Creel making, interactive demonstration from 12 to 4pm.
Barry Noyce lives in North Tipperary and has been growing and using willow for the last 20 years. He has amassed a collection of over 70 varieties and cuts his crop on an annual basis, both at his home and in outlying Sally Gardens he has established.
He makes everything from cradles to coffins and all sorts of baskets in-between that you might use in your lifetime. He is primarily a functional basket maker and grower of the genus Salix.
On Sunday 14th Barry will demonstrate how to construct a creel, Ireland's indigenous and totally prehistoric basket. There are many regional variations of this utilitarian basket and they have been used throughout the ages for carrying everything from turf to seaweed, wool, dung and vegetables. They are as versatile as required and use strong rods with a technique which is unique in the weaving world. As well as observing Barry demonstrating the making of a creel, you can also try your hand at weaving a few rounds of one using one of the different templates he has brought along.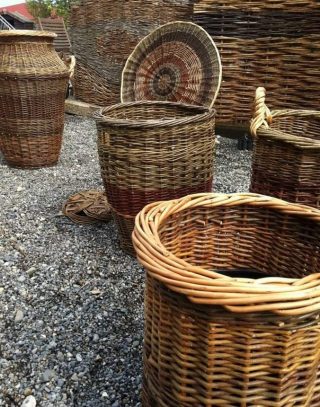 Saturday 20th, Sunday 21st August: FREE Portumna Priory Tour with Mark King, OPW Guide at Portumna Castle & Gardens, starting from Reception at Tea Rooms, at 11.30am on both days.  Mark has a keen interest in the religious history of Ireland, having worked as an OPW Guide at the famous Rock of Cashel.
Portumna Priory itself has borne witness to many tumultuous events in Irish history since its foundation as a Cistercian monastery in the 13th Century, becoming the home of a group of self-sufficient Cistercian monks, through to its time as a Dominican Priory where the followers of St Dominic, the Order of Preachers, provided spiritual guidance to the community and its later conversion to a Protestant church, used by the Bourke family until abandoned in 1831.
These evocative ruins were once a hive of busy yet unhurried activity, a place of quiet contemplation and prayer, and the place of worship of the De Burgo's of Portumna Castle, one of the most powerful Anglo Norman families in Ireland. Join the tour with Mark and take a step back in time to discover the fascinating history of Portumna Priory. Duration approx. 1 hour.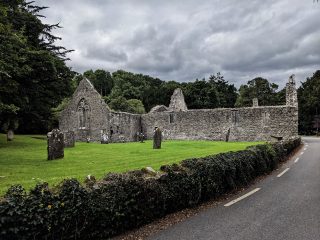 Contact
Portumna
Co. Galway
H53 YK27
090 974 1658 and 090 9742003
Getting Here
Portumna town – adjacent to lake, the River Shannon and Portumna Forest Park.
Click the relevant icon below to open Maps directions