Rhiannon Giddens with Francesco Turrisi – When I Am Laid In Earth
Dates
22/04/2023 - 22/04/2023
Location
Farmleigh House and Estate
Rhiannon Giddens with Francesco Turrisi - When I Am Laid In Earth
Farmleigh House, Saturday 22 Apr 2023, 20:00
For this very special concert at Farmleigh House, Grammy Award winners Rhiannon Giddens (vocals) and Francesco Turrisi (piano) tear down artificial boundaries between classical and vernacular music.
Drawing on diverse sources - such as American and Italian folk music, early Baroque songs, classical arrangements of African American spirituals, original songs, and deconstructed arias - they show the fluidity between the classical and popular sound.
Doors open at 7.30pm for an 8pm start.
Photograph credit - Ebru Yildiz
(Attendees who are expecting to take a taxi home after the concert are advised to book one in advance.)
Biographies
Rhiannon Giddens
Acclaimed musician Rhiannon Giddens uses her art to excavate the past and reveal bold truths about our present. A MacArthur "Genius Grant" recipient, Giddens co-founded the Grammy Award–winning Carolina Chocolate Drops, and she has been nominated for seven additional Grammys for her work as a soloist and collaborator. She most recently won the 2022 Grammy in the Best Folk Album category for They're Calling Me Home, her collaboration with multi-instrumentalist Francesco Turrisi. The 12-track album was recorded in Ireland during the recent lockdown; it speaks of the longing for the comfort of home as well as the metaphorical "call home" of death, which has been a tragic reality for so many during the COVID-19 crisis.
Giddens's lifelong mission is to lift up people whose contributions to American musical history have previously been erased, and to work toward a more accurate understanding of the country's musical origins. Pitchfork has said of her work, "Few artists are so fearless and so ravenous in their exploration," and Smithsonian magazine calls her "an electrifying artist who brings alive the memories of forgotten predecessors, white and Black."
Among her many diverse career highlights, Giddens has performed for the Obamas at the White House, served as a Carnegie Hall Perspectives artist, and received an inaugural Legacy of Americana Award from Nashville's National Museum of African American History in partnership with the Americana Music Association. Her critical acclaim includes in-depth profiles by CBS News Sunday Morning, The New York Times, The New Yorker, and NPR's Fresh Air, among many others.
Giddens is featured in Ken Burns's Country Music series, which aired on PBS in 2019, where she speaks about the African American origins of country music. She is also a member of the band Our Native Daughters with three other Black female banjo players—Leyla McCalla, Allison Russell, and Amythyst Kiah—and co-produced their debut album Songs of Our Native Daughters, which tells stories of historic Black womanhood and survival.
Named artistic director of Silkroad in 2020, Giddens is developing a number of new programs for the organization, including one inspired by the history of the American transcontinental railroad and the cultures and music of its builders. She recently wrote the music for an original ballet, Lucy Negro Redux, for Nashville Ballet (premiered in 2019), and the libretto and music for an original opera, Omar, based on the autobiography of the enslaved man Omar Ibn Said for the Spoleto USA Festival (premiered in 2022).
As an actor, Giddens had a featured role on the television series Nashville.
Francesco Turrisi
Grammy Award–winning multi-instrumentalist Francesco Turrisi has been defined a "musical alchemist" and a "musical polyglot." He left his native Italy in 1997 to study jazz piano and early music at the Royal Conservatory of The Hague, where he obtained bachelor's and master's degrees. Since 2004, he has been working successfully as a freelance musician. He was a member of the celebrated early music ensemble L'Arpeggiata, performing at the most important classical music festivals in Europe and around the world, and has recorded for the Warner, Virgin, Naïve, and Alpha labels.
Turrisi has released five critically acclaimed albums as a leader and two as a co-leader, including Tarab, a cross-boundary innovative album that blends Irish and Mediterranean traditional music, and Zahr, a project that looks at connections between southern Italian traditional music and Arabic music. His latest piano solo album, Northern Migrations, was described as "delicate, wistful, and wholly engrossing" by The Irish Times. He performed selections from the album at a sold-out concert at Farmleigh in 2022.
In 2018, Turrisi began to collaborate with American Grammy-winning singer and multi-instrumentalist Rhiannon Giddens. Together, the duo has released two critically acclaimed albums: their 2019 debut project there is no Other and They're Calling Me Home, which earned the 2022 Grammy for Best Folk Album.
Turrisi is equally at home playing with jazz veterans Dave Liebman and Gianluigi Trovesi as he is with Irish traditional sean-nós singer Róisín Elsafty and with tarantella specialist Lucilla Galeazzi. He has toured with Bobby McFerrin, interpreted the music of Steve Reich with the Bang on a Can All-Stars, and accompanied flamenco star Pepe Habichuela and Greek singer Savina Yannatou.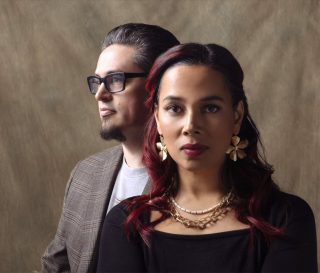 Contact
Phoenix Park
Dublin 15
D15 TD50
01 815 5914
Getting Here
Located 5km from Centre of Dublin, in the Phoenix Park.
Click the relevant icon below to open Maps directions