The Treaty 1921: Records from the Archives
Dates
07/12/2021 - 27/03/2022
10:00 am - 5:00 am
Coach House Gallery, Dublin Castle, Dubh Linn Gardens
The National Archives preserves the memory of the state in the form of its records. It acquires and protects Ireland's public records, thereby ensuring their availability as a resource for all. These records relate to the social, cultural, economic and political history of the island of Ireland from the middle ages through to the establishment of the Irish Free State in 1922 and into the modern era.
The 1921 Anglo-Irish Treaty is arguably the most important document in Irish history.

Minister Catherine Martin TD
Minister for Tourism, Culture, Arts, Gaeltacht, Sport and Media
Amongst its collections is perhaps the most famous document in Irish history: the Anglo-Irish Treaty of 1921. It is appropriate that the National Archives should mark the centenary of the signing of the Treaty by presenting a major exhibition of records in its possession relating to the negotiation and signing of the Treaty. Using the Treaty itself as the centrepiece, this exhibition places significant documents from the collections of the National Archives on public display for the first time. This exhibition forms part of the National Archives Commemorations Programme 2021–2, marking the National Archives' role as the official repository of the records of the state. It is presented in partnership with the Royal Irish Academy, the National Library of Ireland and the Office of Public Works, with records on display from the collections of the Military Archives, Dublin, and University College Dublin Archives.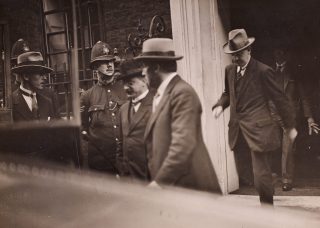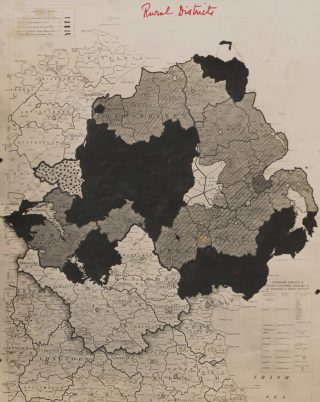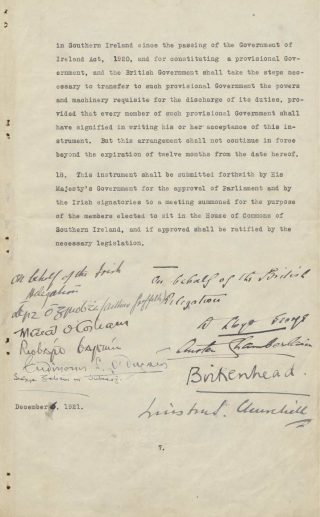 Contact
Dame Street
Dublin 2
D02 AK81
01 645 8813
Getting Here
Situated in the City Centre off Dame Street, behind City Hall, 5 minutes walk from Trinity College en-route to Christchurch.
Click the relevant icon below to open Maps directions